Our headquarter and international operations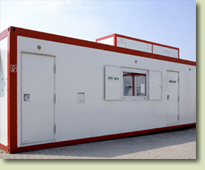 Our headquarter is located in Garbsen/Hanover. Due to its good location domestic as well as international business can be conducted very well. Our business is situated close to the Autobahn A2 (3,3 km) and the airport Hanover – Langenhagen (14,5 km). The good national and international transport links make it possible for the GEO-data group to have flexible and efficient logistics.
Lower-Saxony with focus on Hannover/Celle is the center of the German oil - and natural gas industry. The biggest amount of oil and natural gas is obtained here. Institutions like the German school of drillmasters or the federal institute for geosciences are located in this area. Since Germany is located in the center of Europe, deep wells all over the world and especially in the former GUS-States can be supervised excellently. A big advantage is also the good business connections of the new federal states to the market in central & eastern parts of Europe. Due to these connections our employees are able to speak several languages. Thanks to our head office and our agency abroad we are involved in various deep well-and environment projects in and around Europe.
The university city Hanover, the universities of Clausthal and Göttingen and the German school of drillmasters in Celle together with the federal agency for geosciences (BGR) and the state office for soil research as well as the agency for geosciences guarantee a constant exchange of experience and knowledge.
The GEO-data company has provided services on over a thousand deep wells since its foundation 34 years ago. During the last decade the focus of GEO-data activities has been transferred to the international market. The GEO-data is active in more than 22 countries.
International project activities in more than 22 countries