Data processing with the Drilling Monitoring System (DMS)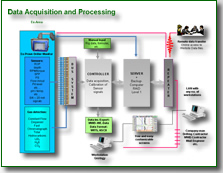 A diverse amount of automatically acquirable (by sensors) and, likewise, many only manually obtainable data from the most diverse fields arise at a rig site. A basic prerequisite for an efficient data acquisition system lies in the necessity to process the data from all areas of study, including the automatically and manually acquirable, as well as data from external companies, into only ONE system.
The basis of the GEO-data's system is a fast (realtime) data controller for the automatically (by sensors) acquired data and a modular constructed local area network with real-time data server and data administration system. Hardware and network software conform to approved industrial standards. The user software was developed by GEO-data according to the complex operating conditions. This strategy accommodates ideally the need to access data (real-time data as well as saved and processed data and information) from a number of workstations.

The most important data are described and summarized in eight groups according to the eight following submenus:
drill technical data
pit and pump data
drilling fluid data
geological and geochemical data
reporting system/costs
gas-/ drilling fluid gas data
MWD/wire line data
technical calculations